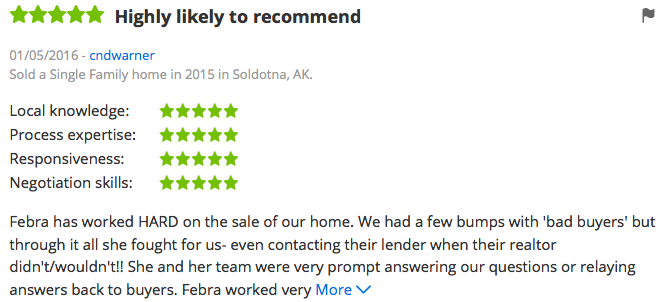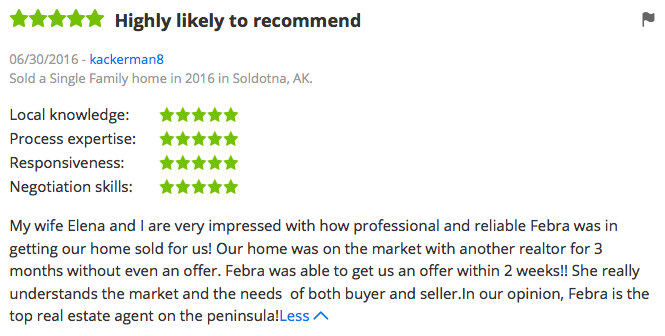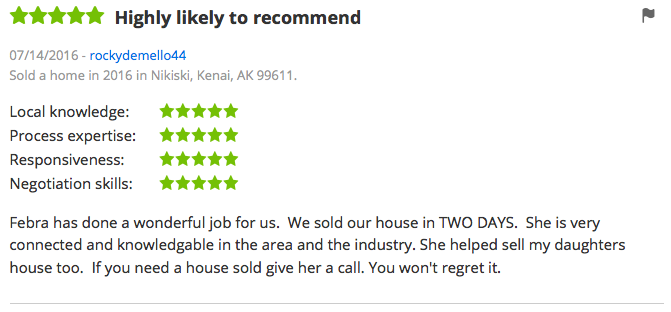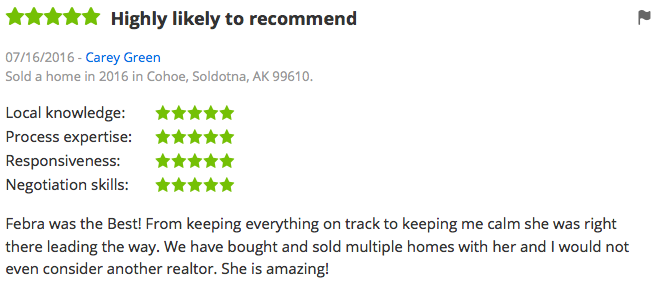 Febra is very knowledgable of our area and housing market. She is upbeat and happy to help in any way. We moved out of state while our house was on the market and she has gone over and above to help us out! Oh and she had our house sold in less than 20 days!! She's a true rock star! Michelle AK 2015
Febra is amazing! We have enlisted her expertise several times and have never been disappointed. Her knowledge and responsiveness is second to none! We would without hesitation utilize her services again.
-July, 2014
Febra Hensley has been amazing to work with, she takes our calls anytime of the day, she always answers any questions we may have, she sold our house fast and found us a new house that was exactly what we were needing!
~~ Dickinson Family ~~ May, 2014
Febra was a perfect fit for our selling needs. She was hones and even went to the bank for us to figure out what exactly we needed. I would recommend her to anyone looking for a home or commercial property!
Febra sold a home for us in July 2013. We were so pleased with how easy it was to get in touch with Febra and how easy it was to talk to her, that we went to her when it was time to buy another home. She is very knowledgeable, and very easy to work with. She works very hard for her clients, and is very thoughtful. She treats everyone with kindness and respect. If I have any real estate needs, I won't hesitate to go right back to Febra!
Hallett (July 2013)
I would highly recommend Febra to either sell or buy a home or piece of property. She sold a property for our church here in Nikiski that we no longer used or needed. She went above and beyond all expectations in making sure that we and the buyer were treated fairly. She kept us informed to all interest shown in the property and when she found a buyer, she worked very hard to make the transaction painless. Febra grew up on the peninsula and knows the area very well. She works very hard for all those that use her services. She definitely cares about her clients.
Vicki (Dec, 2013)
We first met Febra a year & a half ago when we listed our home with her. She had it sold with in two weeks & by the end of that month we were moved out! We were so impressed by her enthusiasm & dedication that when we decided to move back & purchase a home we knew who we wanted on our side. We would highly recommend Febra wether your buying or selling your home. She will go above & beyond to fulfill your expectations.
-Creme (March 2014)
Febra represented us very well during the sale of our house. The house sold quickly at a higher price than I had anticipated. She also represented us during the home inspection when we had to be out of town. She was a pleasure to deal with and I highly recommend Febra.
-Marks Family (Jan, 2014)
Febra is an amazing real estate agent! She was able to sell our home in just weeks, after it had already been on the market with another realtor for months. She provided feedback from everyone she toured the property with, her entired team, and her own personal thoughts on the property. She held open houses, placed marketing signs extending beyond the property itself, and advertised our property efficiently quickly bringing in a buyer! We area very grateful to have had the opurtunity to work with Febra and encourage everyone to give her a call when purchasing or selling a home. She is personable, easy going, knoledgable, and above all exceptionally good at her job!
Moore Family (Sept 2013)
We worked with Febra when we moved to Soldonta and when we moved away and needed to sell our house. The first time, she made it possible for us to buy a house, sight unseen, that fulfilled our needs. The transaction was accompllished via e-mail and faxes with not a single problem. When it came time for us to sell our home she said "in 60 days it will be closed" and it was. I would recommend Febra to anyone relocating in and /or out of Soldotna/Kenai area.
Loughead (May 2013)
Febra sold our house in remarkable time! We were relocating out of Alaska, and wanted our house to be sold within one month time. Two weeks after putting our house on the market we had an offer. A few weeks later, the deal was complete. Febra is dedicated to selling her clients home. Had we gone with another realtor, our house would still be on the market. Thank you Febra,
-Bassetti family
Febra is a wonderful real estate agent. Within the first week of lisitng her we had an offer on our home. She was always easy to reach and always returned calls within a timely manner. I hightly recommend her.
Klawitter (January 2013)
We used Febra in 2005 when we relocated back to the area and purchased our home. Eight years later we are using her again to sell the home we have now out grown. Febra is an amazing realtor who has never been unavailable to talk to us or answer questions. I would refer her to anyone out there who needs a buying and sellilng agent. Febra is a wonderful part of our community who goes above and beyond for her clients.
Howell 2013
My experience with Febra was a wonderful one. She was very knowledgeable and keeps lines of communication open, which I fully appreciated. If my family were to buy another home I would, without hesitation, go to Febra again. Thank you Febra!
Askin Family (February 2013)
At a time when we need to sell our home quickly, due to my wifes cancer we needed to move back to the East Coast to be closer to treatment centers. Febra had us on the market within a day or two and the offer we accepted (within $500 of asking price) by the end of the week. Before we could close we were stuck in Anchorage with Chemo and Radiation Treatments, Febra handled all the loose ends that needed to be taken care of and arranged for the buyers title company to come to us at thehospital for our end of the closing. I would deal with Febra anytime.
Bobby Ley
We recently purchased a house with Febra. She was quick to act and quick to respond. She anticipated our questions and needs and met them well. She knows her stuff! Her friendliness and negotiation skills really are impressive.
Thanks Febra! ;)
Febra is the kind of realtor that anyone and I mean anyone can trust. It doesn't matter if your looking for a million dollar home or if your a first time buyer or in my case a first time seller. She treats everyone with respect and is willing to help in any way she can to meet and exceed your expectations. Febra is easy to work with and will take the time to explain everything. She helped us sell our home at the price we were looking for and always stayed positive showing after showing. She gave us great advice on everything. I feel her strong community ties and excellent reputation in our area was a huge help. It didn't matter if it was night or weekends she always answered the phone and always answered our questions. I hope you choose Febra for your needs weather your buying of selling, you will not be disappointed.
-Ward Family (January 2013)
We started our home search while living overseas and found Febra through a referral from friends. We are so grateful we found her! It could have been very difficult to make this transition from so far away, but thanks to Febra it was a breeze. We emailed Febra and told her what we were looking for in a house and when we would be in town for a house hunting trip. She did all the ground work, met us when we arrived, filled our day with house viewings and by the end of the week we made an offer on a house. We flew out that weekend and returned a few weeks later to find everything ready for us to close and move in. I would never usen anyone else. She is awsome!
-The Wilcox Family (January 2013)
I am currently in the closing process of selling our home in Alaska. My wife and I relocated to Floida while our house in Alaska was on the market listed with another agent. I have known Febra personally for years and wish I would have gone with her initially. She stepped in, took over the listing and has been "miles ahead" of the first realtor. I believe if I gone with her in the beginning the house would have sold last summer. Thanks Febra!
-Adams (January 2013)
I have enjoyed the opportunities to work with Febra as a professional sales person and as a Junior Achievement board member. Whether teaching basic economics though JA to elementary students, Febra brings a vivacious presence to her work that is infectious. I look forward to next oppertunity to be associated with one of Febra's efforts.
_Randy
Thomas R. Daly, Founder
HiSpeed Companies
I have known Febra for the past 8+ years, so when my wife and I decided to list our home there was no doubt in our mind who to call. She is proffessional, honest, and always works her butt off for her clients. You will not find a better agent in the Kenai/Soldotna area.
Brandon Fortney (January 2013)
Febra has been working with and helping me through quite an extensive and difficult period. She is an incredible realtor, knows it all and has a heart of gold as well. She really cares and I'm fortunate to have gone to her for my house sale. She has stuck with me through thick and thin and I don't think my property would sell without her perseverance and drive to get the job done and done right. She's brilliant and wonderful. She has helped me with the sale of my property AND with purchasing my new absolutely wonderful dream home. ( I almost forgot about that because it was a breeze to buy my current property because of her!)
Patty Moran (January 2013)
We were so happy to have chosen you to sell our home. Our house was on the market for only two weeks when we received an awesome offer. Then came two weeks of packing & moving out. What a rush! We would definitely recommend you to anyone who wants to sell their home. You were very professional, friendly & knew how to get the job done. Your awesome!
Thanks,
Sean & Sheila Crame' (January 2013)
We have both purchased and sold several homes with Febra and she is absolutely outstanding!!! Professional, realistic, honest, and amazing to work with. I would recommend anyone who is looking to buy or sell look at talking to Febra first!!!
McKays (2012)
Febra worked with my son on purchasing his 1st home. He works a two on two off schedule which at times proves difficult. She was always ready, and willing to be available when the mood struck. She searched for homes with his requirements & emailed him homes that were fresh on the market. She is an all round professional in the industry. I recommend Febra to anyone in the market to buy or sell a property. She is always smiling, and a pleasure to work with.
Laura (2012)
If you are looking for an honest, open, and satisfying experience when selling or buying your next home I would stongly recommend Febra Hensley. She is always professional in appearance and actions and is straightforward and easy to deal with.
Febra is a master at what she does! She knows this area and how to help you find your dream house. She is exactly who you want in your corner when it comes to finding and buying a house. I believe in Febra so much that I share her name with anyone who is looking for a home. She can work with ANYONE, on ANY BUDGET, at ANY TIME and will do so on YOUR schedule. You will especially be surprised by Febra's actions after we put our home under contract. I won't spoil any suprises, but she will go the extra mile to make sure that your were welcomed into your new home! You truly coudn't find a better agent.
It was a pleasure working with Febra! She is smart- focused- and worked hard to get me a great deal on my house! She was honest and made house buying a pleasure! I would highly recommend her to everyone!!!!
Jeff (2012)
We have purchased and sold several single family homes as will as a multi-tenant building over the las few years. We love working with Febra. She is our fist choice everytime. If you are looking for an honest, hardworking and dependable real estate agent then Febra Hensley is the right person for you.
Jeremy and Nyle L
Febra was fantastic with our home sale. She was professional, understanding, and had excellent communication with us. We didn't skip a beat, and it was incredibly smooth! Wouldn't recommend anyone but Febra on the peninsula.
Katie Fortney
Febra is the only realtor I have ever used and the only one I will ever use. She has sold three homes for me and helped me purchase two homes. She worked diligently searching for my dream home and showed me many homes. I know she was more excited than I was this summer when she found us our dream home on the lake. Thank you Febra. As far as I am concerned your the only name in real estate in the area.
Febra Hensley is a smaret and honest person. She will tell you her own opinion about the house and not stretch the truth to try and sell the house. She has been number one on the peninsula for a couple years now and has been selling realestate for over 10 years and is still reated number 1. I would recomend her to anyone.
Bailey Family (2012)
We absolutely loved working with Febra. She was highly recommended by friends and we were not disappointed, unlike previous experiences with other realtors. We felt like she had our best interest in mind and bent over backwards for us to get the home we wanted. She went well beyond her job when we had some difficulties before closing with our buyer. She had both closings done simultaneously so we wouldn't be homeless with three dogs. We never felt like we were her job for money, we felt like her dear friends she was helping. We not only highly recommend her to anyone, she is now a close, personal friend for life! Love, Love Love her! - The Green Family
Thank you for helping us find our new home. Moving from another state is never easy but Febra helped us find a new home quickly and smoothly. She was very professional and very personable. We would definitely recommend Febra to anyone looking to purchase a new home. Thanks Febra. Happy Holidays!
Shawn & Holly Koroll
Hey Febra,
Thank you for your friendly and snappy service during the process of purchasing our new property!
Thanks a million,
Merritt & Cara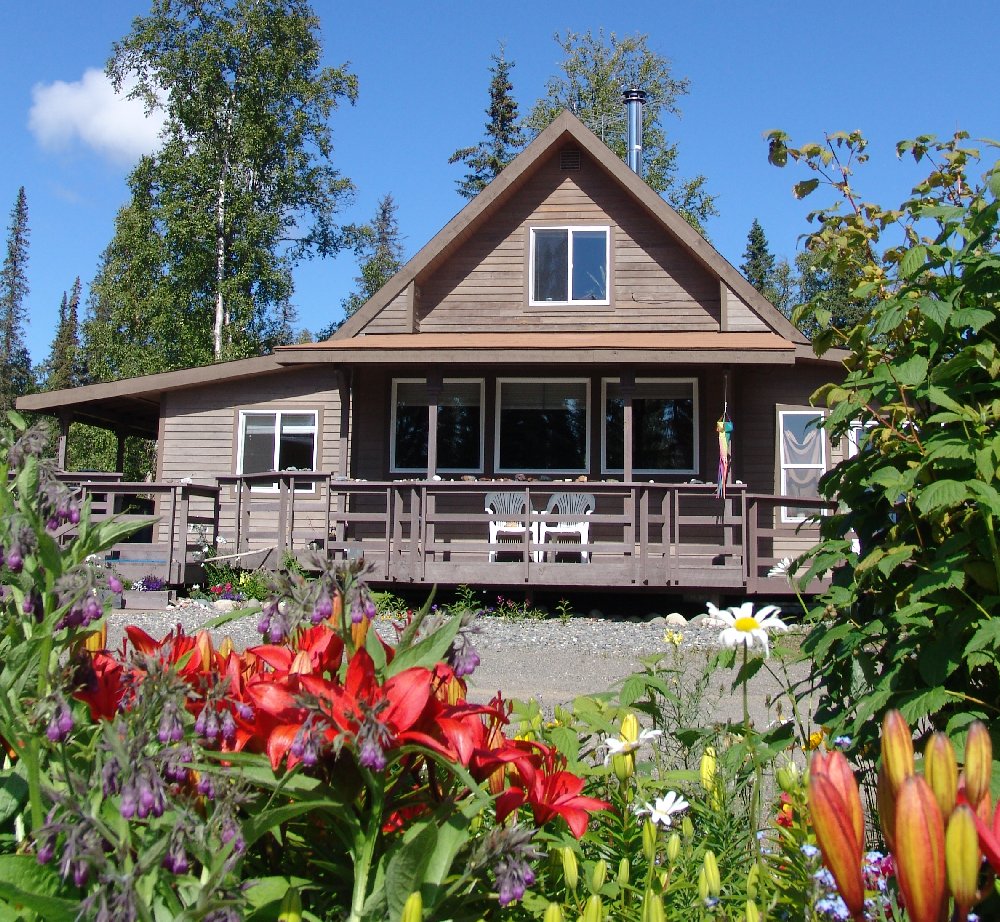 Febra is a special person and I enjoyed and appreciated her help while buying my house. She's very professional but at the same time down to earth and easy to talk to. I would definitly recommend her to anyone that wants a good experience buying or selling a house. Thanks Febra for helping me have a good house buying experience.
Don Matthews
Febra worked very hard trying to get us into our home in a timely matter. We were postponed due to the seller and her incompetence but Febra was on top of correcting the matter. Febra has a wonderful attitude and was a delight to work with. She was on time for appointments and even went to board up a broken window on her day off. I would recommend Febra to anyone looking to buy or sell a home here in the Kenai Peninsula area.
Sarah Deakins
Recently I used Febra to list and sell a property I had in Soldotna. She was very professional and worked hard to find buyers and make the deal. Even though the property was not high priced or ideal she got the job done. I have used dozens of Realtors over the years and Febra by far did the best job, keeping me informed and doing what she said she would. I highly recommend her for any realty needs you may have!
Kelly King
Febra- I would like to take the time to thank you for the outstanding job you did in helping me relocate and find a new home in Soldotna. You has a very difficult task of representing the buyer and seller at the same time, but I was particularly pleased with the way you handled this situation because you never wavered and always demonstrated a high degree of integrity. You were always timely in your response to questions, and really fast on the text! Your professionalism and willingness to please was exceptional. I would recommend any buyer or seller to seek your assistance with a home transaction. Thanks you again!
Mark Tornai (October 2011)
Thanks Febra - I will use you again if I have another house for sale. You have always done an excellent job selling my houses on a timely manner. Thank you so much!
Vince Rutherford (Sep 2011)
Woo Hoo, what a relief! Our home is sold and closed! Febra, once again I want to thank you for all of your hard work and dedication! You are a GREAT! You were amazing helping us get the house sold thank you for your diligence and dedication.
Ephaim Erickson (Aug 2011)
I tried buying as house for sale by owner, but it didnt workout and then co-workers of mine recommended I call Febra Hensley. We are very happy with our new house. Once we get all settled in it will be much better. Buying our home went pretty slick, it was easy to buy thanks for working with us and helping us get into our home!
Terry McNulty (July 2011)
Thanks Febra for selling our home. Finally we can start building our New Home for our family, now that this is sold. We couldnt have done it without you and thank you You were there for us and knew just what to do. Thanks again. Leah and Zeb.
The Brophy's (July 2011)
Hi Febra!
Thanks again, Sooooo Much, for the sign you had made for us - it is Perfect! My choice of colors all the way.Thank you for the smooth transition of selling our house - it was amazingly easy with your help and expertise!
Ted & Debbie Pearson (June 2011)
Febra was a blessing to have as our Realtor on the purchasing end as well as on the selling end. Without her help and expertise, we would not be the proud owners of our dream lake home. We appreciated Febra's consistent communication, knowledge of the market and her expertise in handling our listing. We knew that we had an expert on our side and it was very comforting during the hectic course of purchasing and selling a home. Febra made the process less stressful than anticipated and we are extremely grateful for her proficiency and dedication. She is definitely the BEST realtor we have ever worked with and we highly recommend her to anyone looking to purchase or sell a home.
Jake and Tonya lautarett (July 2011)
Thank you so much for everything you did for us febra. We are so happy and couldn't have done it without you. It's quite the happy home over here for the Braud Family!
Candice and Josh Braud (June 2011)
Thank you so much Febra! You will HIGHLY be referred to everyone that i know!
The Howell's (June. 2011)
Febra- "Wow, its been so easy im speechless". Now we are off to warmer weather and appreciate all your time, efforts and succes selling our home for us. You were wonderful.
The Manelle Family (June. 2011)
Febra-
Thanks for getting us into our new home! We were using another Realtor and not getting the results we wanted or needed. A friend recommended you and you made it happen for us. What a diference!! It was fast and
you made it so easy. Thanks again
- Keith Ackerman (May 2011)
It was so refreshing to finally find someone that made life a little easier. You met all of our expectations and more in buying our first home. We are still so impressed with how fast and easy everything was. Your flexibility to work around our schedules was impeccable. We could not be any more at peace with our home and this house is perfect for Ava to grow up in. The playground and beach close by was defiantly an unexpected bonus. We would refer you to anyone searching for their dream home, land, or business... hands down!!!
The Anderson Family (April 2011)

Thank you Febra for all your work in helping us sell our home. At first we were reserved about using a Realtor but you were there every step of the way, and knew just how to move on to the next step. Its closed, and finally! Thank you very much.

David and Jenny Hamill (Aug. 2010)

Thank you, so much, for your hard work in helping us to get our home. And Jayden just loves his little Firetruck you got him. He plays with it all the time.

Meg, Brian & Jaydon Weisman/Wright (Aug. 2010)
My husband and I started the process of looking for our first home. A friend recommended Febra and we called her to start the process. She is very knowledgeable and diligently started working on helping us find the right home. She was honest, kind and very timely responding to our needs and questions. Febra was fun to work with. She listened to things that we wanted in our home and any concerns we may have had. After all her hard work we ended up with a wonderful home and we are very pleased with all the help Febra gave us! Thanks Febra!

Bethany and Granger Nyboer (July 2010)
To whom it may concern,

This letter is to express my gratitude for my realtor Febra Hensley. I first came to Alaska in 2006 for vacation. I loved it so much I decided to buy some property. I looked in the phone book and saw Febra with her extremely cute hair and called her right up. She immediately answered and showed me some great property, priced in my range. She was professional and quick with her dealings and I was so glad to have her represent me. This year I sold the properties and had her list them. She actively marketed the listings with flyers and email blasts and sold the properties quickly and for a good price. During my years of owning the property she kept me up to date on market trends and values. I feel that I had an incredible experience with her and would recommend her to anyone.

Sincerely, Amy Carlson (June 2010)

Febra worked hard at selling our home for us, she was always timely, friendly, and halped us with
issues that came up."You were always on top of things and pushed hard to make things work. You helped us out a lot with showings and all the crazy stuff at the end. Thank you :)"
Pat & Amanda Moran (May 2010)
We were very impressed with Febra. This is only our second experience with Real estate and we really have been impressed. She is professional, friendly, and truly knows her stuff. As far as timelines...wow :) we know land isn't as involved as a home, but we closed within a week! We would definitely call her if we are in the market again.

Adam & Melissa Tafoya (April 2010)
I recently listed a house with Febra Hensley. She was, by far, the most thorough, efficient realtor I have dealt within years. She kept me up to date on every detail and she sold my house in 63 days. For all Real Estate needs on the Peninsula, I would recommend the best: Febra Hensley. Thank You Febra!

Steve Richardson (March 2010)
Febra was so great to work with. She was always prompt, and professional and made the whole thing seem easy! From start to finish, she was there every step of the way. We could not have asked for a quicker sale or a better REALTOR!! We will definately be recommending Febra to all family and friends.

Joe, Emily and Thomas jessel (Nov. 2009)
When we purchased a home from Febra, my husband and I were on a very tight deadline due to his work schedule. We didn't even think it would be possible for us to be moved in before he left on a three week trip. Febra took care of everything and arranged for us to be moved in within three weeks of our offer date! We found her to be very thorough and professional and she let us know what was happening every step of the way. Along with a wonderful personality she was genuinely interested in our well being and made sure we were happy with the entire process. We would highly recommend her to anyone considering selling or buying a home.

Alain & Darlene Cloutier (November 2009)

I still can't believe that our home sold to the first people who looked at it, and with just 3 days on the Market. We never could have pulled it all off without you. You were always there to answer any questions and you never lost hope. There were No delays that could stump you. I will not hesitate to recommend you to anyone and everyone. You truly are gifted at what you do. It all went so fast and we couldn't be more thankful.
Sam and Anna Eason (Oct 2009)
My wife and I were a bit nervous with the idea of selling our home and had approached a few different Realtors but on our first meetng with Febra we knew she was the person we wanted. Her advice was 'spot-on' and helped us move our home quickly. When buying our home it felt like we were her only client. She worked overtime to help us find AND acquire our perfect home. I am sure that if it was not for her professionalism and strength of character we would not be living in the home we are today. Thank you, Febra!!!

Mark, Laura and Kids Best (Sept 2009)

Febra is a wonderful real estate person. I will recommend her to anyone I know that is looking for a house or land. She was very efficient, friendly, and very knowledgeable. This is the first house we have ever had to go purchase and Febra made it a very easy process for us.

Charles and Mary Jean Ivy (Sept. 2009)
It was my joy, advantage and pleasure to meet and work with Febra on the purchase of my home. She made the whole project easy, sensible and calming.Febra answered every question I had and had the patience to look up any information. I recommend Febra to anyone looking into any real estate business. Thank you Febra, I wish you well.
L. Marsden (Aug 2009)

Febra was wonderful the whole way through the process of purchasing our home. She thought of every detail and was always patient with us during our search. I highly reccomend her as a realtor. She is efficient and gets the job done quickly! Thank you so much Febra and the Freedom Realty team for going above and beyond. You made a stressful time in our lives enjoyable :> Sometimes it seemed like you were more excited for us than we were. Thank you!!!! We love our home.

Kidder Family (April 2009)
I'm thinking of you over here in sunny Hawaii :-) Thanks for your help in making our dreams come true.
Foglias (March 2009)
I cannot believe how simple it was for us to sell our house with Febra and Kelly. With the expertise of the Freedom Team, we were able to sell our house within one week! The quick sale and excellent service we received allowed us to move into our dream home much sooner then we expected. THANK YOU FEBRA!!

Thanks Tiffany Eck
When we decided to sell our home we made one phone call. Having Febra sell our first home a couple of years ago made this decision a "no brainer". Everything about Febra is professional down to her FABULOUS shoes! (If you saw her jump the sensors of our garage door, just to lock up the house you'd be laughing too). She is very understanding when it comes to juggling a family and showing your house. Febra goes out of her way to make things work for you. She is never more than a phone call away with any questions you have or situations that may come up. I can not say enough about her personally or professionally. I have and will continure to refer friends and family her way. The next time we sell will be with her. I consider her "My Realtor" .

Vince & Erika Rutherford (Feb 2009)
Febra, We just wanted to say thanks for all your hard work! We really appreciate all you did to make it work for us, two houses closing at the same time. Thanks. You Rock and we thought you should know that. You are the BEST REALTOR IN THE WORLD! "
Jake and Tanya Lautaret (Feb 2009)
Febra Is a wonderful person to work with, always up, exciting, reassuring and enthusiastic. We could call her "Terminally Optimistic", and that really worked! Whenever i had any doubts, Febra put me at ease. She has a great sense of humor, and very easy (a pleasure) to work with. Now my house is sold and I'm off to New Adventures! Thank you Febra, So very much!


Sincerly; Guy Leonard (Jan 2009)
We are mostly settled in our new home and would like to thank your agency, in particular Febra Hensley, for her help in making our move back to Alaska possible. Buying a home is a risky and stressful endeavor made more so by the fact that we were doing this long distance from Washington and sight unseen. We have moved many times but have never had to rely this heavily on a third party to assure our satisfaction. Febra provided us with all the information we needed and/or wanted, answered our questions and, in the end, made it possible for us to have a home to settle in. Again, thank you.

Tom and Flory Lougheads (Dec 2008)

This is a long overdue note of "Thanks"!!! for all you have done to make our transition so smooth. We appreciate your hard work and hundreds of phone calls on our behalf. Our family is settled in and enjoying our New Home in Kenai. With Sincere Regards, The Hegge Family

Matt and Trica Hegge (Oct 2008)
Thank you so much for our gift cards and all you have done. You have and TRULY ARE WONDERFUL. We'll call soon and have lunch or coffee.

Ray and Karen Gross (Sept 2008)

Amy and I could not be happier with the service and personal touch we received. Selling a house is really kind of stressful but you made it an easy process for us. From always being available for questions to offering support and expertise when ever we asked. Once again thank-you so much and we will surely recommend you to anyone and everyone who is either selling or buying a home.

Big thank-you from the Larson family,
Jason,Amy,Gracie and Jack Larson (Aug 2008)
We were very satisfied with the service that Febra provided. Her expertise in recommending items that would prepare our home for sale were invaluable. She very efficiently took care of all of the details of the sale of our home and answered our questions quickly and kept in constant touch. This process was quick and as care-free as possible for us. We would recommend her to anyone!
Denver & Debbie Copeland (August 2008)
You guys did fantastic!!! You did well! I think you're honest and I think when I bought the property it would have helped having great Realtors like and Kelly! You really did great!! Thanks Lew
Lew Buck (July 2008)
Hello Febra!!! We want to thank you again for all that you have done for us. You are truly wonderful. You have just done so much for us, and we will never forget it, you aer wonderful!!! Take care.

Steve & Renee Howarth (July 2008)
Wahoo!! Thank you very much for all your help on this. Your work on this has been prompt, friendly and accurate and that is more than I can say for a lot of people I run into. If its ok with you I will give your name and number to any of my friends that are serious about buying in the Kenai area. And again it's been a pleasure.

Robert Peacock (July 2008)
Febra~ We wanted to say Thanks for all your help. We have been telling EVERYBODY about you, and we mean Everybody. Call Febra if you want your house sold Fast!! We still can't believe how fast it was. Thanks again. You are the Best!!!

Benny, Rennie & Aly Malbrough (June 2008)
We were completely satisfied with Febra and the service she provided us. She was extremely helpful and took care of all the details of the transaction. She was great about keeping us informed and expediting the process. We will definitely do business with her again.

Aaron & Rebekah Challans (June 2008)
We would like to say that Febra did a wonderful job and we would have been so lost without her. Thank you for the great job you did selling our home! We can't tell you how much we appreciate your hard work and the extra steps you took to make the selling of our home a breeze. We definitely recommend Febra as a qualified and professional person to work with!

Ruby & Joe Foglia (May 2008)
We'd like to thank Febra for her assistance in helping us get our home sold. From the very beginning we could tell that she was the right person for our needs and she came highly recommended from local friends. Our buyer was very anxious to get the property turned over and no promises were made that she couldn't keep. My wife and I would like to thank her for a "Job well done" and would certainly return for her services if the opportunity ever came up again.

Best wishes
Rick and Lisa Nunez (May 2008)

"We really appreciate all the effort Febra put forth, we were in a hurry, with special time constraints and she understood what needed to get done and possessed the knowledge and vision necessary to make it happen...Thanks for everything!"

Brian & Leslie Barrett (May 2008)


Ms. Febra Hensley-
I was more than happy with the way you handled the sale of my home and I can't thank you enough. Not only are you professional and business oriented, but your charisma and character unveils a friendly atmosphere that is comfortable for any customer you might encounter. You are goal oriented and waste no time in providing your clients with the outcomes they expect. You would be the first recommendation to any of my close and distant friends, it was a pleasure working with you, and I look forward to contacting you for any and all future real estate needs.

Nate Miller (April 2008)
I looked at properties on the MSL and e-mailed a few realtors got my first impressions and Febra was a hit,I knew she enjoyed her career and thrived to do it best,so I chose her for the listing I had found,so I handed her the ball and she ran with it. We'll buy more and if we can't go through Febra we won't buy it!! If you want the same service, Febra does what YOU like and does it BEST!

Weavers (March 2008)
Hey Ya'll,
I just wanted to thank you all for the great job you did selling our home. I can't tell you how much we appreciate your hard work, and the professionalism you showed in dealing with us. When we left Alaska we had no way of knowing the market would slow down so much, but your tenacity paid off. It was hard trying to sell a home while living out of state but the way you kept us updated with phone calls, emails and feedback from the showings made